In the City of Sarnia, pet licence fees and donations are important for funding essential animal services. When you license your pet, know that you are doing your part to help your local shelter workers care for lost, injured and abused animals.
We are proud to call the Sarnia and District Humane Society an official Safe & Happy Partner. We will always donate 20% of every designer tag sale to the Sarnia and District Humane Society in an effort to provide additional funding for the community's vulnerable animals and the staff that serves them. They are doing some pretty amazing things for local animals in need, read on to learn more about this great organization!
2,500+
Animals sheltered
per year
1,500
Adoptions
per year
9
Full-time staff
100+
Volunteers
10,000
volunteer hours
We spoke with Donna Pyette, Executive Director, about what's been going on at the Sarnia and District Humane Society.
What is something you are really proud of as an organization? We are an open-door facility which means no animal is turned away. Our foster program is fantastic and growing by leaps and bounds
What is something that makes your shelter unique? We oversee animal care and operations for the City of Sarnia/Seaway Kiwanis Children's Animal Farm which is located in Canatara park within city limits. This is a small working farm that houses ponies, a llama, a cow, sheep, chickens and goats.
What is a program that you run that is really important for people to know about? Our foster program is extremely well run and organized and continues to grow each year. So many cats, kittens and dogs have benefited from this program. It truly helps us to save lives.
Can you share a story of a specific pet you helped recently? A little 5-week old pup was brought to us by a good samaritan after he was found in a ditch down a side road. He was cold, shivering and suffering from a terrible deep wound to his neck and shoulder. He was immediately taken to Bright's Grove Animal Hospital and placed into surgery.
The wound had exposed the trachea and broken his scapula so severely that a piece had to be removed. Dr. Delavigne of Bright's Grove graciously volunteered to foster the pup (she affectionately named Kevin) as he recovered.
Kevin will always have a limp when he walks as a reminder of the injuries he suffered, but this beautiful boy was adopted into a wonderful, loving family. He now enjoys a fun-filled life of boating, hiking, and spending time with his doting mom and dad, who mentioned that Kevin is at the top of his training classes, regarded by trainers as "smart beyond his young age".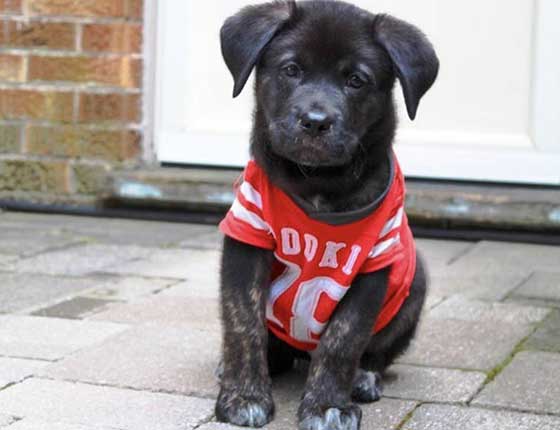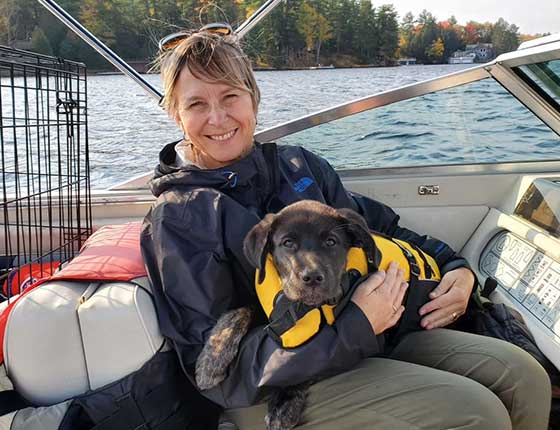 What is something you are raising funds for today specifically? When COVID-19 hit, our ability to fundraise became virtually non-existent. The revenue loss from this has had a very huge impact on our shelter. We launched a holiday campaign to encourage people to donate to help support the animals in our care. The campaign, which is titled "Scratch Someone Off Your Howladay List" features gift sets that can be purchased with targeted donation amounts.
Do you have any specific advice for pet owners that you'd like to share? When adopting a new pet, be patient and give them time to settle in. Some pets settle in quite quickly, while others need time. Just be patient and encouraging because the rewards you will receive from a pet are a lifetime of great memories and unconditional love.
Is there anything else you want to let us know so we can get the word out? Since the pandemic started, we have seen an increase in "backyard breeders and puppy mills" trying to meet the demands of people wanting puppies. Please, if you are going to purchase a puppy from a breeder, do your homework! Ask questions, do not accept no as an answer to see the parents, their facilities, pedigree records, vet records, ask for references, etc. It is also helpful to research t
For more information about the Sarnia and District Humane Society, visit
www.sarniahumanesociety.com